Vtg Bally E-873 Series E 5¢ 5-Line Fruit Slot Machine Golden Nugget Stand Manual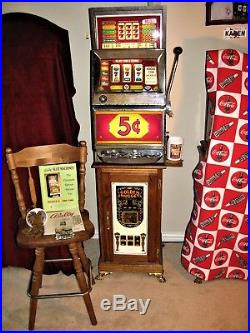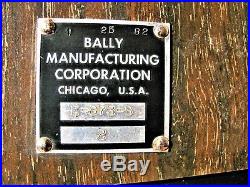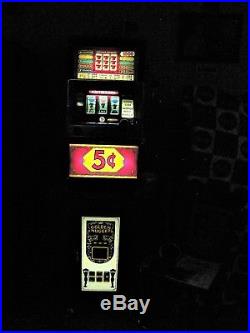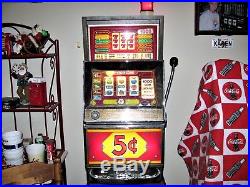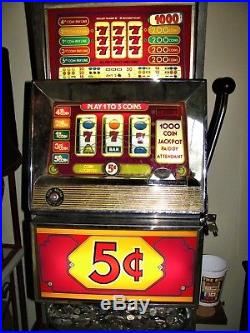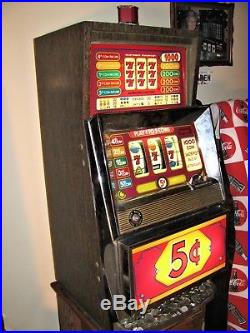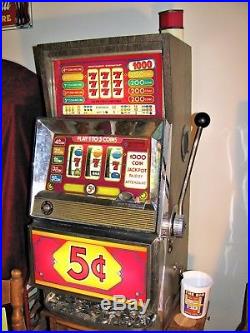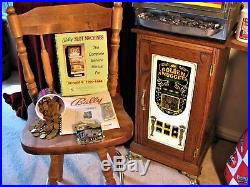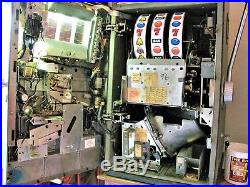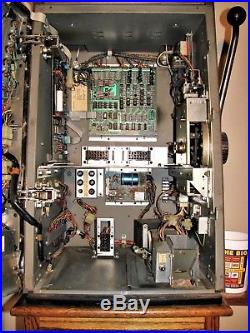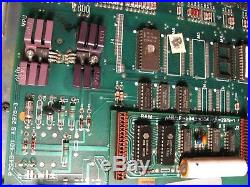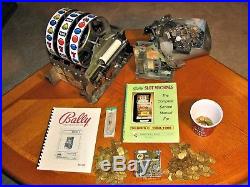 The unreliable 873 model made in 1970. This is a electro-mechanical machine with solid state circuit boards. Complete and original with never a reel reader error, electrical or mechanical issue and it works 100%. For your consideration is this. Vintage Antique Bally E-873-8 2 Series E-1000 5-Cent 5-Line Fruit Slot Machine with Illuminated Golden Nugget Stand, Coin Mechanisms Token Accepter.
This Series E-1000 machine from the knowledgeable slot guys and gals and online should have been made in 1980 but this one must have been a "Special Order" made on January 25, 1982, as stamped at the top of the nameplate. The reason I believe this is special order is because of the numbers on the boards. The MPU board is an AS-2978-3, which is correct for a Series E-1000, but there is a paper tag for an E-831 at the bottom of this board. Likewise, the I/O board has a paper tag for an E-809 machine.
In Chicago must have assembled this machine from parts on hand because a Casino really loved this machine because of reliability.... All of the circuit boards are correct for a Series E-1000 (Pics on Request). However, the 6 digit LED display near the top right of the front door is a rectangle window display for a Series E-2000 when it should have been the smaller rounder window for the Series E-1000.
Yet there is a E-873-8 2 paper sticker inside the front door on the back of the LED mounting bracket. Start searching all you like, you won't find another E-873-8, the closest is an E-873-4. The 5 lines pay from right to left, left to right or up or down diagonally but all that means is the cherries pay from either end or additionally at each corner. The 777 jackpots pay 200 coins which has hit many, many times. The diagonal 777 bottom left to top right pays 1,000 coins. It's been hit only twice. This vintage machine and everything else is in nearly pristine like new condition; presentation grade.
The wood on the slot cabinet and illuminated Golden Nugget stand are both scratch free, the chrome on the machine still nice and bright with only a few traces of very fine light scratches. About all I see cosmetically is the top glass retainer right chrome trim piece is showing some pitting and very light rust from cleaning. Not really noticeable but I include for accuracy. It could be replaced, re-chromed, or just don't focus there.
I lubricated this machine each new year in the first week of January or so and cleaned the handle rack lock lever teeth and 2 reel gear assembly teeth every other year and applied new grease. I have replaced only a single #47 incandescent lamp so the other #47s and #44 bulbs are due. I just replaced the handle air piston seal on the reel mechanism and have 4 spares which would last until this machine is well over 100 years old. White areas are camera glare or light reflections. My pics are part of the description. Truly very rare, reliable and Extremely Nice!!
No dash after AS or digit following 2981. P 2948-360 AS 2981- is the entire number with Test 30-81 printed above that number.
Bally M 645-452 appears in dark green letters on the side of each of the 3 boards. AS-2985-2 Rectangle window LED front door counter/test board, not round windows.
Yet has E-873-8 2 on paper sticker on LED counter bracket. Original and completely 100% working Bally E-873-8 2 Series E-1000 5¢ 5-line fruit slot machine with both sets of 2 keys and original tower light that works if the power is on.
Push the service button and the top red light comes on. Honey, I need a beer. That red light also comes on after each win and will stay on if you hit a jackpot and the hopper empties. The bottom white light comes on when the door is opened as well as the buzzer to alert you the kids are stealing nickels again. Illuminated Golden Nugget slot stand with dual slide out cup holder (Coin cup shown).
The top of the stand has a hole cut out so like at a casino, the first coin(s) inserted when powered up will drop to the "bank" below or when the hopper is full. 900 TKN with 250+ Tokens. Technologies SERIES E Parts Catalog (Models E-809, E-831 and E-873). Hundreds of nickels as seen in the hopper pic.
A #47 Spare 6.3V Lamp. 4 spare air piston seals for the reel mechanism.
This vintage slot machine is a classic from the height of Bally dominance in the market with cutting edge solid state circuit boards and reel reader technology. Coin(s) were inserted manually by hand, the handle was pulled, and the reels spin fast but stop after a somewhat lazy duration.
A buzzer goes off with a win and coins clanked that familiar machine gun payoff clink into the coin cup tray below. It's all about speed for the casino.
This antique slot machine reflects a time lost long ago and would be a great addition to any game room, man cave or media room. Very reliable and fun to play. AND CANT BE CONVERTED BACK TO ACCEPT COIN. WITH COIN OR DOLLAR DENOMINATION.
The laws are often complex and may subject violators to criminal penalties. There are three exceptions to this general prohibition. A few states require that slot machines be even older to qualify for antique status, but a few allow more recent machines.
I will not entertain best offers. This machine and all the accessories will eventually sell at this fair price. It will also be listed at other sites. However, this machine is still serviceable and parts are still available. Simply return in the condition sent. The machine alone weighs over 200 lbs.
Without the nickels, stand, stool and accessories. From a Smoke Free, Pet Loving. Energy Efficient, Mostly Organic, We Recycle, Patriotic American Environment.
Slot Machines, 1948 Vendorlator 27 Coke Machine, 1952 Seeburg Model C "Happy Days" Jukebox, Coin Supplies, Clothing, Books, Electrical Covers, Plates, Cables. AND OTHER FABULOUS DEALS AT farrarlight. Farrarlight is leading the way to GREAT STUFF CHEAP!!!
(except for some extremely rare stuff). The item "Vtg Bally E-873 Series E 5¢ 5-Line Fruit Slot Machine Golden Nugget Stand Manual" is in sale since Wednesday, March 28, 2018. This item is in the category "Collectibles\Casino\Slots\Machines\Antique Coin Slot Machines".
The seller is "farrarlight" and is located in Wylie, Texas. This item can't be shipped, the buyer must pick up the item.
Country/Region of Manufacture: United States
Type: Series E
Year Manufactured: 1982
Series E Type: E-1000
Slot Machine Type: Electro-Mechanical
Electronics Type: Solid State Circuit Boards
Reliabiltiy: Has Never Failed Once