Vintage Watling Slot Machine MINT MINT NOS NEW IN UNOPENED CRATE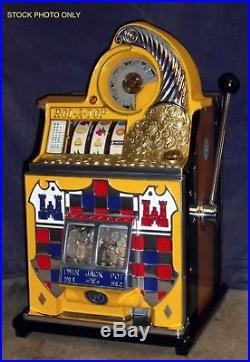 Watling Slot Machine in original, unopened crate! A "once in a blue moon life-time" opportunity for a Watling machine with the highly collectable 25 cent play! For serious collectors looking for true MINT condition, this machine truly redefines these words.
If this doesn't get your collectable juices moving, nothing will! First off, the featured slot machine photo in the description is NOT the one for sale. As stated on the photo it is a "stock photo only" of what I believe is likely very similar to the one IN the crate or more likely an exact duplicate. I can certify, however, that it IS a crated and unused Watling Slot Machine (that is very obvious) but I cannot say for certain that it is a 25 cent Castle Front. More information on this and the photos below. I like things clean and original. It has been covered in my closet or garage all this time. At the time, many at the show wanted me to uncrate the machine but I thought it would be more valuable and more interesting to not uncrate it.
It is sometimes referred to as "Checkerboard" The slot machine casting and colors resemble both a castle and a checkerboard. There are two original small round stickers on the top of the crate (in hand printing). One sticker says 25 Rol-A-Top the other sticker says "castle front".
According to the International Arcade Museum the Checkerboard or Castle machine was manufactured in 1947. Another site says 1947 -1949. That makes this machine 70 years old or close to it. Watling Rol-A-Top slot machines are known as the King of Slot Machines for any collector and most agree that the Watling Rol-A-Top is one of the most attractive three wheel slots ever manufactured. They are solid, durable commercial machines that have been played in businesses or casinos for years and years.
Many have broken parts that have been re-machined, modified, etc. They are sought after by true collectors.
This machine has never been restored, refurbished, repainted, plated, or tampered with. Nor has it ever been taken apart and put back together by some expert to LOOK new. For all intents and purposes this machine IS NEW! Except for a layer of fine dust perhaps that penetrated the crate over the decades.
It has never seen the light of day! The crate itself is in excellent condition and has a value by itself. There is a slight crack in one of the slats shown in one photo of the crate but it is in great condition.
I decided not to uncrate the slot but used a remote endoscope camera to view and take photos of the machine. In the process, I needed to make several small cuts (about the size of a quarter) in the brown Kraft-type paper bag material that appears to seal and enclose the slot like a bag. Material was brittle and cracked mostly at the edges of the cuts. I was able to thread the remote semi-rigid cable and camera into the opening for some very close and tight shots in some areas.
I did not want to disturb the integrity of the crate or contents so I limited the shots. (I have a few more available). The images posted from the endoscope camera are obvious and comparisons can be made with the stock photo image. By careful observation, the tiny close-in snapshots seem to correspond with areas on the stock slot machine photo. What I observed and surmised. 1 Slot machine appears to be similar or exactly like the stock photo. 2 A find layer of dust covers the machine. The dust is a very light layer in most areas and slightly heavier in others. The dust appears to be very superficial and does not appear to be adhered to the surface of the machine. (areas where the endoscope was dragged across the surfaces, disrupted or cleared the dust quite easily) Also noticed a small cobweb and dead spider egg on inside of crate and outside of paper packing. There appears also to be some heavier packing material material (not unlike styrofoam) for packing support. I believe this packing material also acted like a barrier to prevent my endoscope from moving freely around the contents of the crate and the slot surface - limiting my photos.
3 The slot appears to be a 25 cent machine as noticed in one photo (not shown in the listing). 4 Slot also appears to be a Twin Jackpot version like the stock photo. Jackpot # 1 and #2. The colors are similar but not exactly like the stock photo version. But remember the colors of the stock photo slot are photos of a repainted slot and not authentic.
Plus there is dust on surfaces of the crated slot. 6 The slot appears to be in remarkable original condition (as expected) and obviously can be left in the crate as-is. Or it can be uncrated, dusted off and shown to the world as likely the best example of what a true Watling survivor looks like - in all its original glory!!
(Recommend video taping the process if you decide to uncrate it). 7 Original reel strips are plainly visable.
I honestly do not know the ultimate true value of this slot machine. I've been around some nice collections and this is the best of the best. The cherriest of them all.
I also know that it is a survivor - a one-off slot machine that likely has no comparison. Some lucky collector could be the first to open this mummified treasure like a bottle of fine rare wine. Sorry for such a long listing description but I felt it was necessary for such a unique item.
I could have written this much shorter had I uncrated the machine and knew more details and could show more, but then it would not be in-the-crate. Please study the photos and feel free to message me with any questions. The item "Vintage Watling Slot Machine MINT MINT NOS NEW IN UNOPENED CRATE" is in sale since Wednesday, August 29, 2018. This item is in the category "Collectibles\Casino\Slots\Machines\Antique Coin Slot Machines". The seller is "branderman" and is located in Orange County, California.
This item can't be shipped, the buyer must pick up the item.
Country/Region of Manufacture: United States
Featured Refinements: Vintage Watling Slot Machine Mint NOS in Crate!